Franklin Method Equestrian Lower Leg Trainer Course (English)
Transform your teaching with the only official Franklin Method® Equestrian Lower Leg Trainer certification course
The details – Franklin Method® Equestrian Lower Leg Trainer course 2022
where?
Kootwijkerbroek, NL
Human&Horse Academy
Harskamperweg 22, 3774 JP Kootwijkerbroek
When?
Monday 9 untill Friday 13 May 2022
Module A
Monday 27 June untill Friday 1 July 2022 Module B
Who?
Alysen Starko-Bowes
– Franklin Method® Equestrian Educator
– Franklin Method® Faculty
Costs?
Normaal $2500 USD, Early bird $2300 USD (untill 1 december 2021) Deposit $500 USD
Certificate?
Students will receive the Franklin Method Equestrian® Lower Leg Trainer certificate
Online support?
After the deposit is paid, you will get access to the online course(s) included in this training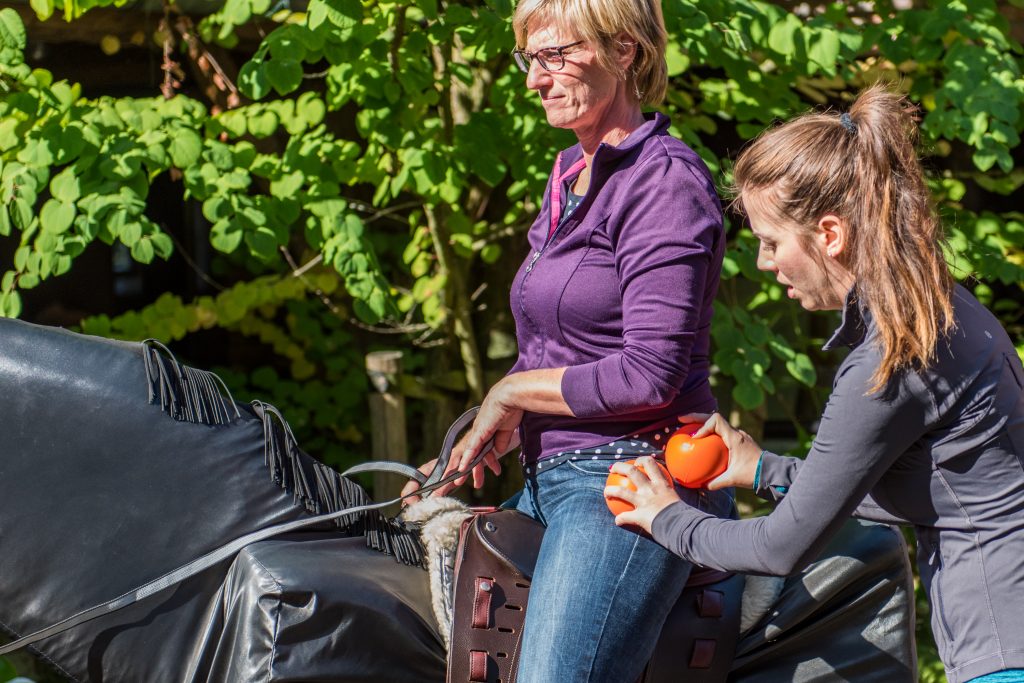 ranklin Method® has helped equestrians take their riding to the next level by unlocking old patterns in the body and tapping into new skills for improving your movement and your relationship with your horse, so your riding feels strong, seamless, and intuitive.
During this 2-part training you'll learn Franklin Method® imagery and embodiments of the pelvis as they apply to riding.
"What I love when delivering a session is how clients get instant feedback on how to notice a change in their body which also affects their horse….that is truly lovely to see!"
– Carol Green, Franklin Method® Equestrian Pelvis Trainer
Over 10 days you'll experience our unique core principles, including anatomical education, embodied function, and Dynamic-Neurocognitive Imagery® (DNI), as they directly apply to equestrians.
Although you'll learn a lot of theory, this is not simply a lecture series or "movement training." You'll be experiencing Franklin Method® for riding in an interactive format, using a Joker horse Simulator and truly integrating solutions for your unique challenges.
Students will graduate from the training with an entirely new perspective on the riders' body and movement. Not to mention, you'll have learned and embodied practical tools you'll immediately be able to take out into the arena.
You'll learn how to utilize Franklin Method® mind-body exercises and imagery both in and out of the saddle. From your warm-up to your riding lessons, having Franklin Method® tools in your toolbox will revolutionize your coaching and you'll quickly see the tangible results in your riders that you've been looking for.
You'll discover exactly how to use Franklin Balls and Franklin Bands along with the scientifically proven Franklin Method® principles to multiply their benefits.
"This course will fundamentally change the way you ride and the way you coach others. The knowledge and the experience of feeling the change in your own body as you apply what you have learned by either working with the simulator yourself of coaching others through the process will set you apart from other trainers in the market. It is worth the investment in both time and money."

Yolanda Delport
Important information
What is included in this course?
10 days of training + immediate access Online Workshops:
Franklin Method Fundamentals (only accessable to Franklin Method Educators)
Franklin Method Equestrian® Lower Leg Trainer Manual (in English)
Franklin Method Fundamentals Manual (In English or Dutch)
Access to the private facebookgroup with gecertified Franklin Method Equestrian Trainers
Franklin Method® Equestrians Lower Leg Trainer License
How will Franklin Method® impact my teaching skills?
Learning the Franklin Method® will help you understand your anatomical function on a scientific yet intuitive level. You'll learn how certain cues and movements could actually be going against the function of your body, and the function of your horse. These improper cues, while well-meaning, can contribute to harmful movement patterns for both you and your horse. Learning the Franklin Method® will give you a strong foundation based on long-standing and new cutting-edge science. It will improve your cues and give you more confidence, because you'll know your instructions are congruent with correct anatomical function.
This is a 10-day, 2-module training held over 2 separate 5 day modules. We'll start each day with a Franklin Method® mind-body warm up where you'll learn and practice the core principles that make up the Franklin Method®.
Over our 10 days together we'll cover Franklin Method® theory and anatomical education, as well as embodiment and imagery for the lower leg and surrounding muscles/fascia.
Then, we'll be applying the embodiments, imagery we just learned directly to riding with the use of a JOKER horse simulator (mechanical horse).
Each day will finish with dismounted training exercises using Franklin Balls and Franklin Bands.
There will be practice teaching assignments and a case study report in between the modules. At the end of the certification training you'll be asked to give 10-minute presentation on one of the topics you learned in the first module. You'll also be asked to teach a 10 minute mounted Franklin Method Equestrian session with imagery based on your presentation topic.
What can I teach after completing this certification?
After this training you'll be certified as a Franklin Method® Equestrian Lower Leg Trainer. This gives you permission to teach Franklin Method® Equestrian Lower Leg workshops and use the Franklin Method® – including our unique balls and bands – in classes, clinics and lessons.
Where is this course?
This course is helt at the beautifull Human&Horse Academy, in National park the Veluwe in Kootwijkerbroek, the Netherlands. You ccan find more information on this venue here.
What does the training fee cover?
10 days of training, as well as Franklin Method® balls, and band. Supportive online video content. You'll also receive a copy of the Franklin Method® Equestrian Lower Leg Trainer Manual, and access to the Franklin Method® Equestrian Lower Leg Facebook group where you can connect with fellow trainees and ask the faculty questions.
Practical aspects?
You don't have to bring a horse to this course, but it is possible if you wish to. Please contact us if you decide to bring your horse.
If you don't bring your horse you will get ample practice on JOKER the horse Simulator with the Franklin balls and bands.
Drinks and lunch are included in the course price. It is also possible to stay overnight at the venue. Please do mind the limited availability. Please contact Human&Horse Hotel to arrange your stay with them directly.
How do I sign up?
You can sign up for the 'Franklin Method® Equestrian Lower Leg Trainer Certification' by sending an email to info@deruiterschool.nl. Please also contact us if you have any questions or concerns.